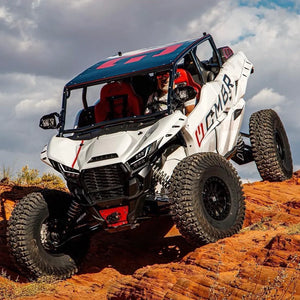 VooDoo RR Kawasaki KRX1000 Roll Cages
VooDoo KRX1000 Roll Cages For 2 & 4 Seat 
For any off-road vehicle owner, a roll cage is an essential addition that amplifies not only the safety of the vehicle but its aesthetics as well. When it comes to roll cages designed explicitly for the KRX1000, the Voodoo RR line stands out as a market leader. Known for quality, style, and customizable features, the Voodoo RR KRX1000 roll cage is designed to cater to different individual preferences and requirements.
In this comprehensive review, we will explore the standard features of the Voodoo RR KRX1000 roll cage, including its .120 wall DOM construction, included aluminum roof, 3 whip tabs, and included removable dash bar. We'll also delve into the available add-ons, like the V gusset kit, glass windshield, grab handles, intrusion bars, light bar tabs, pod light tabs, and chase light bar tabs, among other exciting features.
Standard Features of the Voodoo RR KRX1000 Roll Cage
1. .120 Wall DOM Construction
One of the standout features of the Voodoo RR KRX1000 roll cage is its .120 wall DOM (Drawn Over Mandrel) construction. This manufacturing process ensures high strength and durability, providing exceptional resistance to impact and torsional forces.
The .120 wall thickness adds extra rigidity to the cage without significantly increasing its weight. It makes the Voodoo RR KRX1000 roll cage an excellent option for those looking for superior protection without sacrificing the vehicle's performance.
2. Included Aluminum Roof
Adding to the structural integrity and aesthetics of the roll cage, the Voodoo RR KRX1000 includes an aluminum roof. This addition not only enhances the visual appeal of your vehicle but also provides added protection from the elements.
The aluminum roof is lightweight and corrosion-resistant, guaranteeing long-lasting performance. Its sleek design complements the roll cage's overall appearance, creating a seamless blend of functionality and style.
3. 3 Whip Tabs
For those who want to add some flair to their off-roading experience, the Voodoo RR KRX1000 roll cage comes with three whip tabs. These allow riders to attach LED whips, adding visibility and a unique look to the vehicle.
These whip tabs are strategically positioned and strongly built, ensuring they can handle the dynamic forces experienced during aggressive off-road driving.
4. Included Removable Dash Bar
The removable dash bar is another standard feature that adds both safety and convenience. It provides additional structural support and can be easily removed when necessary. Whether it's for easy access to the dashboard or a custom modification, the removable dash bar offers flexibility without compromising safety.
Available Add-Ons
1. V Gusset Kit
For those seeking to enhance the structural integrity of their roll cage further, the V gusset kit is an excellent addition. It provides extra support to critical stress points, ensuring that the roll cage can handle even the most extreme off-road conditions.
2. Glass Windshield
The available glass windshield is not just about style; it's a functional add-on that protects riders from wind, dust, and debris. High-quality materials and a perfect fit ensure that the windshield adds to the overall aesthetics while providing practical benefits.
3. Grab Handles
Safety is paramount in off-road driving, and the grab handles provide both the driver and passengers with extra stability during rugged rides. Ergonomically designed and strategically positioned, these grab handles are a must-have for off-roading enthusiasts.
4. Intrusion Bars
Intrusion bars serve as an additional safety feature, protecting the cabin from foreign objects during a collision or rollover. Voodoo RR's intrusion bars are designed to blend seamlessly with the roll cage, providing protection without detracting from the appearance.
5. Light Bar Tabs, Pod Light Tabs, Chase Light Bar Tabs
Lighting is crucial for off-road adventures, especially in low-light conditions. The Voodoo RR KRX1000 roll cage offers a variety of lighting options, including:
Light Bar Tabs: For mounting LED light bars, providing broad illumination.
Pod Light Tabs: Allows for the addition of compact pod lights for focused lighting.
Chase Light Bar Tabs: Ideal for adding rear-facing chase lights, enhancing visibility and safety.
Conclusion
The Voodoo RR KRX1000 roll cage stands out as a top-of-the-line product that combines safety, style, and customization. From its robust .120 wall DOM construction to the included aluminum roof and removable dash bar, this roll cage promises performance and durability.
What truly sets it apart is the range of available add-ons, allowing riders to customize the roll cage to fit their unique needs and preferences. Whether it's the structural reinforcement of the V gusset kit, the elegance of a glass windshield, or the functionality of various lighting options, the Voodoo RR KRX1000 roll cage offers it all.
Investing in a Voodoo RR KRX1000 roll cage means choosing quality and style, with the confidence that your off-road vehicle is equipped with one of the best protection systems available in the market. Enhance your ride and embrace the adventure with the unmatched elegance and performance of the Voodoo RR KRX1000 roll cage.
---