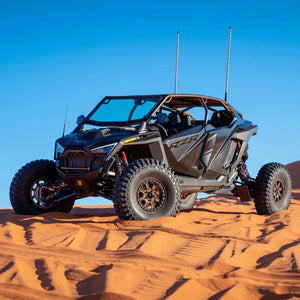 VooDoo Roll Cages Setting The Standard For Reliability, Style & Safety
Voodoorr Roll Cages: Elevating Safety and Style 
Voodoorr is a name that resonates deeply with side by side enthusiasts, especially those who prioritize both style and safety. Known for crafting some of the most robust and aesthetically appealing roll cages in the industry, Voodoorr has become synonymous with quality. Our roll cages are a perfect blend of form and function, catering to a wide range of UTVs, including Polaris RZR, Polaris Turbo R, Polaris Pro R, Polaris General, Can-Am X3, and the Kawasaki KRX1000.
1. Introduction to Roll Cages
Roll cages are an essential feature in the design of any off-road vehicle. They act as a shield, protecting occupants from injury in the event of a rollover or a collision. They also add structural rigidity to the vehicle, enhancing its performance and handling. The roll cages that come on these side by sides from the factory are not suitable to the abuse that these machines are subject to. The factory roll cages are made from inferior material and material that is way too thin. All VooDoo RR roll cages are made from .120 wall DOM tubing and we have the option to upgrade to Chromoly tubing. 
Why Choose Voodoorr Roll Cages?
Voodoorr has perfected the art of designing roll cages that are not just functional but visually stunning as well. At VooDoo, we don't just build roll cages, we test them! We test our cages here in Sand Hollow, Glamis and everywhere in between. We build these cages to perform and keep you safe, not just look good. Whether you're looking for a Polaris roll cage, Can-Am roll cage, or Kawasaki KRX roll cage, Voodoorr has something tailor-made for your ride.
2. Voodoorr Roll Cages for Different Models
Polaris RZR
For the Polaris RZR, Voodoorr offers roll cages that enhance the rugged appearance of this popular model while ensuring top-notch protection.
Features:
High-Strength Construction: Built from .120 wall DOM to withstand harsh conditions.
Easy Installation: Designed for a perfect fit, allowing for hassle-free installation.
Aesthetic Appeal: The roll cage's sleek design complements the Polaris RZR's aggressive stance.
Polaris Turbo R & Polaris Pro R
The Polaris Turbo R and Polaris Pro R roll cages from Voodoorr come with unique styling and safety enhancements.
Features:
Enhanced Safety: Advanced engineering ensures optimum protection during high-speed impacts.
Performance Enhancement: Adds rigidity, improving the vehicle's handling and performance.
Customization Options: Available in various finishes and colors to match your style.
Can-Am X3
Voodoorr's roll cages for the Can-Am X3 are all about blending performance with style.
Features:
Advanced Design: The Can-Am roll cage is shaped to enhance aerodynamics without compromising on safety.
Material Quality: Crafted from materials that offer superior strength and resistance.
Styling Options: Customize your Can-Am X3 with different coating options and accessories.
Kawasaki KRX1000
For Kawasaki KRX1000 owners, Voodoorr's Kawasaki KRX roll cage is the epitome of performance-oriented design.
Features:
Safety Assurance: Meets the highest standards of protection for a safe off-road experience.
Visual Appeal: The Kawasaki KRX roll cage adds an edge to your ride's appearance.
Versatility: Adaptable to various accessories and mounts for a personalized touch.
3. The Aesthetic Appeal of Voodoorr Roll Cages
Beyond safety, Voodoorr roll cages are about adding personality to your vehicle. Their designs seamlessly blend with the contours of your UTV, enhancing its appearance. Whether it's a Polaris roll cage or a Can-Am roll cage, Voodoorr provides various customization options like:
Color Options: Match your vehicle's color scheme or go bold with contrasting hues.
Accessory Integration: Add lights, mirrors, and other accessories for a unique look.
Premium Finishes: Choose from gloss, matte, or metallic finishes for that extra flair.
4. Safety Considerations
When it comes to safety, Voodoorr roll cages are engineered to perfection. They offer:
Rollover Protection: Voodoorr roll cages are designed to dissipate impact forces, protecting occupants in a rollover.
Structural Rigidity: By adding rigidity, they improve handling and stability.
Quality Assurance: Rigorous testing ensures that each roll cage, be it a Polaris roll cage, Can-Am roll cage, or Kawasaki KRX roll cage, meets the highest safety standards.
All VooDoo Roll Cages are built with .120 wall DOM 
5. Conclusion
Voodoorr roll cages are not just an accessory but an essential upgrade for those who live the off-road lifestyle. Offering a blend of style, performance, and most importantly, safety, Voodoorr has a roll cage for every major UTV model, including Polaris RZR, Polaris Turbo R, Polaris Pro R, Can-Am X3, and Kawasaki KRX1000.
With Voodoorr, you're not just getting a roll cage; you're investing in peace of mind, knowing that your vehicle is equipped with the best protection available. Enhance
---